Cat Hellisen is a South African writer of dark fantasy. She has the ability to conjure a sense of 'otherness' that most writers can only envy, casting grounded characters driven by passions and ambitions we can all recognise in situations that take a step away from the reality we know. Her stories have already featured in such venues as Fantasy & Science Fiction and Tor.com, and she is the winner of the Short Story Day Africa Prize.
Learning How to Drown represents her best work to date, gathering together seventeen fabulous stories, two of which appear for the first time and all of which showcase why Cat Hellisen is being tipped as an author to watch.
Contents:
Introduction
The Girls Who Go Below
Waking
The Subtle Thief
Jack of Spades, Reversed
Mother, Crone, Maiden
This Reflection of Me
Counter Curse
Mouse Teeth
A Sun Bright Prison
Serein
Dreaming Monsters
Golden Wing, Silver Eye
I'm Only Going Over
The Face of Jarry
The Worme Bridge
This is How We Burn
A Green Silk Dress and a Wedding-Death
About the Author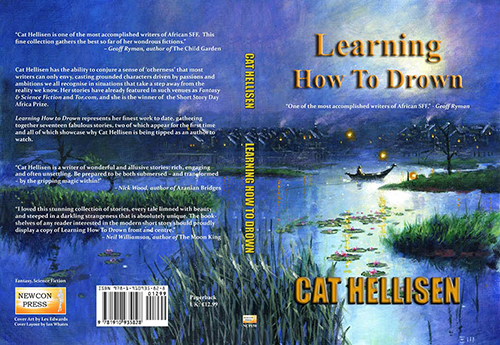 "Cat Hellisen is one of the most accomplished writers of African SFF. This fine collection gathers the best so far of her wondrous fictions." – Geoff Ryman, author of The Child Garden
"Cat Hellisen is a writer of wonderful and allusive stories; rich,
engaging and often unsettling. Be prepared to be both submersed – and transformed – by the gripping magic within!" – Nick Wood, author of Azanian Bridges
"I loved this stunning collection of stories, every tale limned with
beauty and steeped in a darkling strangeness that is absolutely unique. The bookshelves of any reader interested in the modern short story should proudly display a copy of Learning How To Drown front and centre." – Neil Williamson, author of The Moon King
"Lyrical, beautiful, eerie dark fantasy stories. I read these slowly so I could appreciate them, and I can see myself re-reading them soon." – Amazon reviewer
The book is available as a paperback and as a numbered limited edition hardback, signed by the author.