Editor Johnny Mains has scoured anthologies, magazines, and online publications to select the very best horror stories written by British authors, from the insidiously creepy to the outright shocking.
Johnny Mains is a British Fantasy Award-winning editor, author and biographer. He has co-edited two volumes of the critically acclaimed Dead Funny series with Robin Ince, written the introduction for Stephen King's 30th Anniversary edition of Thinner.
"Johnny Mains is the Herbert van Thal of our age" – The Independent
"Mains' knowledge of fantastical fiction is enormous" – Robin Ince
"Mains is the Minister For Horror" – Charlie Higson
Introduction – Johnny Mains
Paymon's Trio – Colette De Curzon
Love and Death – Reggie Oliver
In the Light of St. Ives – Ray Cluley
The Book of Dreems – Georgina Bruce
The Affair – James Everington
Fragments of a Broken Doll – Cate Gardner
The Lies We Tell – Charlotte Bond
Ting-A-Ling-A-Ling – Daniel McGachey
Tools of the Trade – Paul Finch
Departures – A.K. Benedict
The Taste of Her – Mark West
Sun Dogs – Laura Mauro
Dispossession – Nicholas Royle
Shell Baby – V.H. Leslie
The Unwish – Claire Dean
A Day With the Delusionists – Reggie Oliver
We Who Sing Beneath the Ground – Mark Morris
About the Authors
Seventeen stories guaranteed to send a shiver down your spine...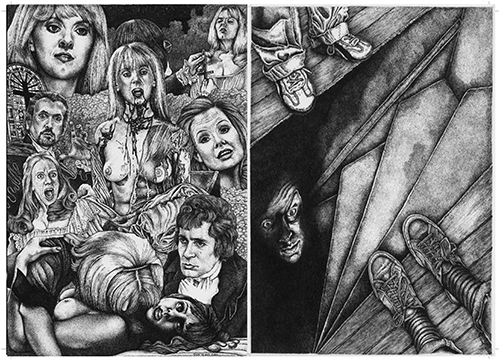 In addition to being signed by editor Johnny Mains, the limited edition hardback features illustrated endpapers by Russell John Morgan, inspired by classic horror movies.
Available as limited edition hardback, paperback, and kindle editions.