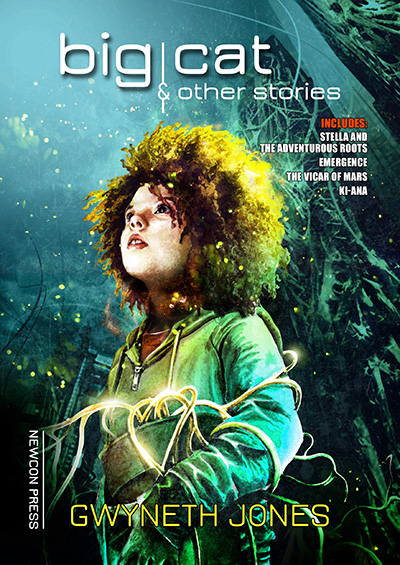 A new collection of short stories from Gwyneth Jones, the author of Bold As Love (Arthur C. Clarke Award, 2002), Life (Philip K. Dick Award, 2005), White Queen (Tiptree Award, 1991), Seven Tales and a Fable (World Fantasy Award 1996), "The Grass Princess" (World Fantasy Award, 1996), "La Cenerentola" (BSFA Award, 1998) and many other acclaimed works.
Big Cat and Other Stories gathers together the author's finest work from the past decade and features a brand new story, "Stella and the Adventurous Roots", which inspired the cover image. It includes tales that revisit the world of Bold as Love and also the Aleutian Universe (White Queen etc), as well as venturing into brand new possible tomorrows.
Full of passion, vivid imagination, and portent, this collection showcases a master storyteller at her best.
Big Cat
Stella And The Adventurous Roots
The Flame Is Roses
A Planet Called Desire
The Old Schoolhouse
The Kianna
The Vicar Of Mars
Bricks, Sticks, Straw
Emergence
The Seventh Gamer
Cheats
About the Author
Available as an A5 paperback and a numbered hardback edition limited to just 100 copies, signed by the author.