Simon Morden has won the Philip K. Dick Award and been a judge on the Arthur C. Clarke Award. He is a bona fide rocket scientist, with degrees in Geology and Planetary Geophysics.
In Bright Morning Star he delivers perhaps his finest work to date, a ground-breaking take on first contact.
Sent to Earth to explore, survey, collect samples and report back to its makers, an alien probe arrives in the middle of a warzone. Witnessing both the best and worst of humanity, the AI probe faces situations that go far beyond the parameters of its programming, and is forced to improvise, making decisions that have repercussions for the future of our entire world.
"[The probe's] initial childlike pragmatism gives way to a sophisticated understanding of the wonder and fragility of life, even as its presence on our planet has far-reaching ramifications... Big themes, but Morden tackles them with panache, humour, and a touch of Vonnegut-like absurdity." - The Financial Times
"An immediately engaging story about first contact, mingling adventure and humour, becomes a constantly thought-provoking exploration of the ideology and psychology of war and peace, as well as the limits of free will in artificial intelligence." - The Morning Star
"Arguably the most unique first contact story I've ever read, I recommend it very highly." - Amazon reviewer
"An excellent new take on a first contact situation from the 'other' side" - Goodreads reviewer
"Morden has a natural talent for a plot that keeps the reader guessing." - The Guardian
"Morden is a master storyteller" - Interzone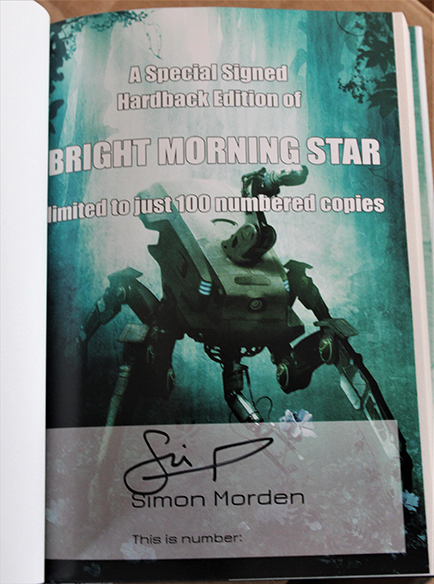 Available as a numbered limited edition hardback, signed by the author, and as an A5 paperback.