NewCon Press are delighted to be publishing this, the signed limited edition hardback of David Tallerman's first ever collection. Printed on high quality silk paper, each copy individually numbered and signed by the author, this exquisite volume contains internal illustrations by cover artist Duncan Kay, including some that are unique to this edition. A number of the illustrations are in full colour, and this special edition includes a bonus story as well as individual story notes by the author, not to be found elsewhere.
Steeped in the rich imagery of Victoriana, The Sign of the Moonlight recalls the very best of classic horror and adventure. Reminiscent of Machan, Conan Doyle, Lovecraft, M.R. James and H.G. Wells, these stories transport us to an age when the world still harbours dark mysteries that defy human knowledge and understanding.
From the wind-swept peaks of the Himalayas to the desperate horror of the trenches, from the stuffy warmth of gentlemen's clubs to the haunted corridors of country hotels, the author challenges us to venture with him into realms where only the brave dare tread…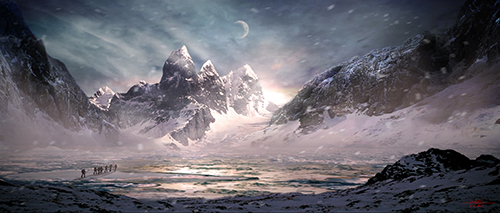 "There are stories here that could come straight out of the pulp journals of the 30s, others that have the mannered feel of Victoriana, and others again with more modern sensibilities and humour… All of them are thought-provoking and finely crafted, and none outstay their welcome." – Adrian Tchaikovsky in his introduction
"Tallerman takes tropes any reader of weird fiction will know well, and uses them to do something poignant and unexpected."
– This is Horror
"A hauntingly lovely story of longing and loss" – Alison Littlewood on The Way of the Leaves.
"The tale oozes menace from every angle." – The Hellforge on The Way of the Leaves.
"This is a dark, compelling, creepy-good story" – Tangent Online on The Sign in the Moonlight.
"A short story writer of uncommon skill." – Bristol Book Blog
Contents:
Introduction by Adrian Tchaikovsky
The Burning Room
The Facts in the Case of Algernon Whisper's Karma
The Desert Cold
The War of the Rats
The Sign in the Moonlight
My Friend Fishfinger by Daisy, Aged 7
Prisoner of Peace
The Door Beyond the Water
Caretaker in the Garden of Dreams
A Twist Too Far
The Untold Ghost
A Study in Red and White
A Stare from the Darkness
The Way of the Leaves
Slow Drowning
About the Author/Artist
The book features stunning colour and black and white illustrations by artist Duncan Kay, many of them full page plates.