V.C. Linde enjoys writing poetry, and she's extremely good at it. In 2012 she entered the New York Times poetry competition and, to her own considerable surprise, won.
For the past several years Vick has been approaching authors and asking them to provide her with three words, from which she has then built a poem. Some are short, some are long, all are touched by wonder.
Just Three Words contains the results of this project: 53 poems, all original to the book, inspired by words from the late great Iain Banks and Tanith Lee (both of whom saw the poems shortly before their passing and were suitably impressed) and the equally great and thankfully still current, including:
Mark Gatiss, China Miéville, Alan Moore, Ramsey Campbell, Charlaine Harris, Peter F. Hamilton, Kelley Armstrong, Jeff VanderMeer, Nancy Kress, Guy Gavriel Kay, Trudi Canavan, Sarah Pinborough, Brent Weeks, Pat Cadigan, Joe Abercrombie, Lauren Beukes, Stephen Baxter, Adam Roberts, Ian Watson, and many more…
"I'm floored. Vick is an artiste. Seriously. That is an amazing piece of work." – Pat Cadigan
"Lord, that's insidiously disturbing. I'm more than happy to have provided the seed!" – Ramsey Campbell
"That poem is... extraordinary. Really beautiful and haunting. Wow! I'm not one to gush praise for no reason – really. Rather the opposite. But that is a stunning piece of lyric poetry." – Adam Roberts
"Vicks poem is tremendous. Very atmospheric." – Tanith Lee
"I'm glad I've been given the chance to read her poetry, it really has opened up some new worlds for me." – Duncan Kay, illustrator.
The book also features a series of black and white illustrations from artist Duncan Kay, inspired by Vick's words.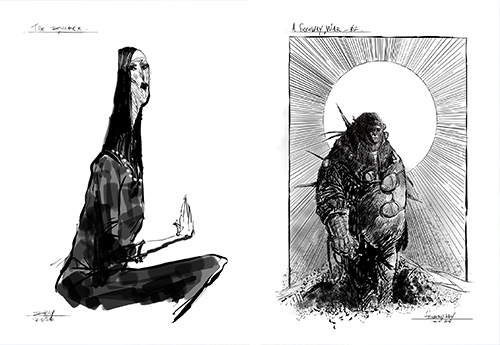 Just Three Words is available as a signed limited hardback, limited to just 50 copies, and in paperback.