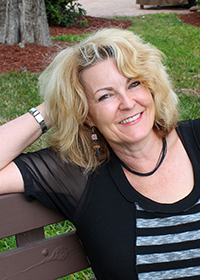 Cat Sparks is a multi-award-winning Australian author, editor and artist. Former fiction editor of Cosmos Magazine, she has also dabbled as a kitchen hand, video store clerk, assistant library technician, media monitor, political and archaeological photographer, graphic designer, guest lecturer, festival director, panellist, fiction judge, essayist, creative writing teacher and manager of Agog! Press, which produced ten anthologies of new speculative fiction.

Cat has a BA in visual arts (CAI), a postgraduate certificate in editing and publishing (UTS) and a PhD in creative writing (Curtin), the latter concerning the intersection of ecocatastrophe science fiction and contemporary climate fiction.

Catís debut novel Lotus Blue (Skyhorse, 2017) was shortlisted for the Compton Crook, Aurealis and Ditmar Awards. Her collection, The Bride Price (Ticonderoga, 2013) was nominated for an Aurealis Award and won the 2014 Ditmar for Best Collected Work.

More than seventy of her short stories have been published since the turn of the millennium and her 24 awards for writing, editing and art include the Peter McNamara Conveners Award twice for services to Australiaís speculative fiction industry.

Cat is a keen traveller currently obsessed with photographing cheeky parrots and grungy walls.